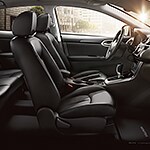 The new Sentra, recently released by Nissan, is a leading midsize sedan that can be purchased with a host of optional accessories. These accessories not only make your Sentra safer to drive. They also make your sedan look better.
Take, for example, the optional splash guard set that you can buy for protecting your wheels and lower areas of the doors. The guards are easy to install and keep mud and ilk from building up on the body of the Sentra, as well as its wheels.
You can also get a window guard set that the dealership can install for you. This set does not require any drilling into the body itself. It lets you roll down your windows to enjoy fresh air but also protects you from excess wind noise, intense heat and even precipitation. The wheel lock set is also optional to buy. It protects your wheels from theft.