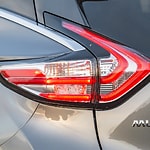 From its inception, the Nissan Murano demonstrated exceptional talent thanks to its many innovative performance features. The newest Murano likewise has the power and capability that car buyers look for today in exceptional AWD crossovers.
In fact, its all-wheel drive train is perhaps most innovative and powerful than those found in its competition. The Murano's comes with intelligent AWD that makes it capable of detecting and responding to any road condition on which you are driving. Even if you take the Murano out onto rocky and loose gravel roads or icy hills, the crossover can adjust the drive train accordingly and give or ease off power to the engine.
The Murano also maintains a steady driving pace so you get optimal gas mileage as well as safe cornering. It shifts power from all four wheels to the front two once you have attained cruising speeds. It also shifts power to and from the side wheels as you turn.