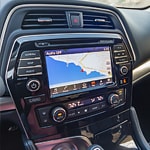 When you want a luxury sedan that doesn't sacrifice performance, you need to take a look at the Nissan Maxima. The power and handling you experience in this poplar sedan make Medford driving something to enjoy.
The Maxima comes with Nissan's powerful, 3.5-liter, VQ V6 engine. It delivers 300 horsepower and 261 pound-feet of torque, so you get a quick punch of acceleration when you need it.
The Maxima rides on a suspension system that's built for performance. It has a low stance, which makes the vehicle stable through turns and responsive to steering. Its multi-link rear suspension helps keep the car in contact with the road and gives you a smoother ride.