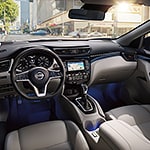 People who prefer a compact vehicle with all of the benefits that an SUV offers choose the Nissan Rogue Sport. The smaller size of the crossover makes it easy to maneuver and park. The Rogue Sport also comes standard with a number of features that cost extra on competitive models.
Occupants stay safer in the Rogue Sport thanks to the standard safety features. Many come with forward collision and automatic emergency braking. But, the Nissan offers automatic high beams, rear cross-traffic, and automatic rear emergency braking.
The convenient tire pressure monitoring technology does not merely let drivers know when a tire needs air. The system also initiates a response from the horn when the tire is filled to the appropriate pressure. Compare all of the advantages of buying a Nissan Rogue Sport by browsing through our Medford, OR Lithia Nissan of Medford selections. Indulge in a test drive.